MindSet Leadership Series Details
2020 Dates:
Spring Series (Cancelled due to COVID-19)
Tuesday, April 21st (8:30am-5pm)
Wednesday, April 22nd (8:30am-5pm)
Fall Series
Wednesday, September 23rd (8:30am-5pm)
Thursday, September 24th (8:30am-5pm)
Cost:
$3,250 per attendee
Members of the Greater Omaha Chamber or HRAM qualify for a $500 discount
Are you a nonprofit executive or leader? 
American National Bank is offering scholarships for nonprofit applicants interested in MindSet. For more details or to apply click here!
Real World Insights
The intellectual capital behind Omaha's only five-time #1 Best Place to Work, MindSet was born from applied and functional leadership insights. In this program we'll cover the insights any leader, from CEO to front-line manager, needs to successfully attract, build, motivate, and retain phenomenal employees. Some of these insights include:
Instilling Pride and Ownership
Team Chemistry
Master Conflict
Recruitment and Selection
Building Stars
Dealing with Problem Employees
Tested Techniques
In addition to learning scores of leadership insights, this MindSet Leadership Series will equip you with an array of more than 30 practical tools, instruments, and processes designed to allow you to make an impact on your organization. Here are just some of the tools you will acquire:
A screening tool for effective supervisor selection
A detailed outline for designing a mentorship program that will actually work
The MindSet Team Assessment tool: 15 measures that will give you a valid reading on the cultural health of any given workgroup
The blueprint for creating a dynamic career ladder program that will retain and motivate star employees
A step-by-step process supervisors can use to conduct difficult employee conferences
And much more…
Want to see the complete curriculum?
Chamber Endorsed
President and CEO of the Greater Omaha Chamber (David Brown) and MindSet's Founder (Dr. Kim Hoogeveen) make a compelling case why you should attend the MindSet Leadership Series.
HRAM Certified (and SHRM Approved)
This program has been pre-approved for 16 PDCs for the SHRM-CP and SHRM-SCP and 16 HR (General) credit towards aPHR™, PHR®, PHRca®, SPHR®, GPHR®, PHRi™ and SPHRi™ recertification. HRAM is an approved SHRM Preferred Provider and HR Certification Institute® (HRCI®) Preferred Provider.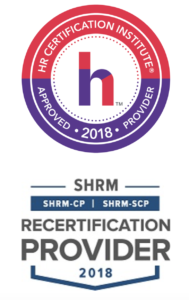 The Data:
Our past participants loved our Leadership Series.
We've shown a snippet of their feedback, but you can view all of the feedback here.
Think we have Innovative Leadership Insights
Think we have Outstanding Content
Would Recommend our Series to a Friend
The Stories:
MindSet's Leadership Series is beyond professional development here - these insights can add a new layer of brilliance to the way we manage and lead.
David Brown
President and CEO - Greater Omaha Chamber
When it comes to leadership and how to build a great work culture, MindSet is a resource that I can unconditionally recommend. Their approach flat-out works.
Susan Courtney
Executive Vice President - Blue Cross and Blue Shield of Nebraska
MindSet has a huge toolbox of content to create engaging programs that yield immediate results. I believe an investment in the Leadership Series will pay for itself many times over.

Todd Darnold
Director of Leadership Programs - Heider College of Business at Creighton University
MindSet is the one leadership training I have ever attended that had real value. MindSet did not just focus on management tricks to squeeze more out of your team, but on making me into a better person, and helping my team to be better people.
Bradly Burgess
CTO - Orion Advisor Services
The MindSet approach is deeply embedded into our culture, and it is responsible for much of our growth, cultural health, and business success. I would strongly encourage any CEO or owner to get your executives and supervisors trained through the Leadership Series.
Pat Kearns
President and CEO - QLI
Next Leadership Series Starts in:
Cancellation Policy
Should you need to cancel your participation in a MindSet program, please provide notification to MindSet by either emailing us at info@gomindset.com or calling (402) 980-3344.  MindSet will provide a 100% refund (minus any non-refunded processing fees) for any cancellations made at least 30 days prior to the initial date of a MindSet program.  Participants who cancel less than 30 days prior to the start date of a MindSet program will be eligible for a 50% refund.  Once the initial MindSet program session has begun, no cancellation refunds will be provided.  Registration for MindSet programs is not transferable without MindSet approval.  Participants are responsible for making themselves available for each training session.  No refunds will be offered for sessions a participant misses or is unable to attend.